Crassula mesembryanthemopsis
Crassula mesembryanthemopsis is a mouthful to say, but a beautiful and fascinating plant to behold. As its species name reflects, it looks like a mesemb, plants in the old Mesembryanthemaceae family. Many of the real mesembs are small, stone-like plants that blend in with their surrounding. While C. mesembryanthemopsis has stone-like leaves, and blends into its surroundings in its South African and Namibia habitat, it's a member of the Crassulaceae family and more closely related to the jade plant than to any mesemb. The lovely plant shown above was grown by the late Al Waltemyer, a long time member of our society.

---
Haworthia bayeri

For More Photo's Visit Our
Plant
Gallery
The Plant Gallery features photos from our recent newsletters and photos of our member's plants and plant related activities. The haworthias might be more popular succulents if they had catchy common names. They are small and beautiful succulents, many with gem like leaf colors and textures.
Haworthia bayeri
is a relatively new haworthia, described in 1997 and honoring Bruce Bayer, perhaps the world's foremost authority on the genus. Haworthias are not difficult succulents to grow, they require a bright location and a well drained potting soil. You also don't want to allow them to go without water for too long. A prolonged drought won't kill them, but it will cause their leaf tips to dieback, ruining the overall appearance of the plant. Haworthias are native to South Africa and they make wonderful window sill plants.
---
Lithops aucampiae
Now (early Spring) is the time of year to enjoy the coming of the new leaves in your lithops. The old leaves are steadily drying up as they pass their water on to the newly developing leaves. In the photo above you can see the new leaves pushing through the drying old leaves. This is the annual leaf replacement that lithops go through every year. Once the old leaves are completely dry, it is time to begin watering your lithops. If you water too early, the old leaves may not completely dry up and you will have a lithops plant with two sets of leaves, an abnormal and undesirable situation.
---
NCCSS April 2014 Program
Growing Cacti and Other Succulents - Just the Basics

In the cultivation of cacti and other succulent plants, sometimes it is important to take a step back and review the basics. While there are many tricks and techniques about growing succulents you learn with experience, in the end, it's light, watering, and the potting mix that makes all the difference. NCCSS member Ben Burkhardt will lead us in a review and discussion of how to grow great succulents by understanding the basic cultivation concepts and then putting them to work. If you have experienced problems getting your plants to grow as they should, please come and join us for this informative program. If you would like to attend our April 2014 meeting contact Lee Miller leejmiller@verizon.net or Bob Stewart stewart723@gmail.com for more information and directions.

---
The National Capital Cactus and Succulent Society

The NCCSS is a group of individuals sharing an interest in the collecting and growing of cacti and other types of succulent plants. We meet once a month from September through June. In August we hold an annual plant show and sale at Brookside Gardens in Wheaton, Maryland. Our Regular Monthly Meetings are held at St. Anselm's Abbey School at 14th & South Dakota Ave. N.E. Washington, DC. Our meeting begin at 10:30 a.m. and end at Noon. If you live in the Washington, D.C. area and are interested in succulent plants, why not visit one of our meetings and share your interest with others who also love these weird and fascinating plants.
---
The National Cactus and Succulent Society is now on Facebook!

https://www.facebook.com/pages/National-Capital-Cactus-and-Succulent-Society/223669454422179
---
Yes, you can grow cacti in your Washington, D.C. area landscape.
The photo below was taken during the winter of 2009-10 in the backyard of a home in Charles County Maryland, just southeast of Washington, D.C. The cacti shown in the photo have been growing outside for the past 12 years. They are not brought inside or protected in any way during the winter. The most serious winter damage occurs from stem breakage due to the weight of heavy wet snow or ice. There are a large number of cacti and other succulent plants that can withstand winter conditions, and they can be used to develop a very interesting and enjoyable part of any landscape.

One of the best places to learn about winter hardy cacti and succulents for the Washington, D.C. area and, and have the opportunity to buy plants is our monthly meetings. We have several members with plantings of winter hardy cacti and other succulents in the Washington, D.C. area and they often bring winter hardy plants in for our sales table at the monthly meetings. We also usually have one or two educational programs each year on growing winter hardy plants. If you are interested in starting a winter hardy cactus garden, or improving an existing one, attend one of our monthly meetings and learn more.


The tall, cylindrical stemmed, plants in the photo above are cholla cactus. The scientific name is
Cylindropuntia imbricata
. They are winter hardy in the Washington, D.C. area and make a fine addition to any winter hardy cactus and other succulent planting. The cactus in the front, with the round stems, mostly hidden by the snow, is a prickly pear cactus. The scientific name is
Opuntia phaeacantha
. They too are winter hardy in the Washington, D.C. area. A small planting of winter hardy cacti and winter hardy succulents can be an interesting and fun landscape project. Dressed up with some interesting and colorful rocks and stones, you can have a piece of the desert in your yard. We have several members in our society that have successful winter hardy plantings of cacti and other succulents and they are always willing to share their experiences, and cutting of their plants.
---
Membership & Dues:
To join the National Capital Cactus and Succulent Society contact Lee Miller leejmiller@verizon.net or Bob Stewart stewart723@gmail.com. If you would like a sample of our most recent newsletter, The Eastern Spine, contact newsletter editor Bob Stewart. Annual membership dues are $15.00 per individual and for a family. There's a five dollar deduction for those receiving their monthly newsletter via email.
---
Would You Like To Know More About Aeoniums?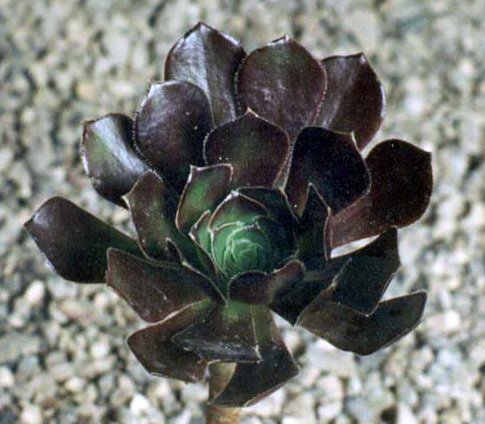 Society member Donna Kuroda presented a program on Aeoniums at our October 2011 meeting and she has agreed to allow you access to that program through a PDF presentation. Just click here on the word
AEONIUM
to call up the program. This is a large file and make take a minute or two to load, depending on the speed of your computer.
---